Season Passes
FoCo Roller Derby season tickets gain entry to all FCRD games and some special events (including parties, scrimmages, and fan opportunities). Season ticket holders are invited to attend all bouts throughout the year.
Season Passes are available through the Brown Paper Tickets

---
Individual Bout Tickets
Tickets to individual bouts are available on a per-game basis and ticket pricing/information is always available on the event page. Check the FoCo Roller Derby bout schedule to find information about our upcoming events. Look for the link to buy tickets for The Events Center bouts from Brown Paper Tickets


---
Group Tickets
Do you have a group of 10 or more? You can take advantage of special game benefits when you buy tickets as a group! Contact us for more information.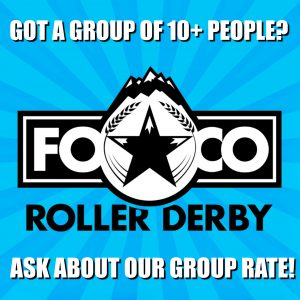 ---
Media & Photography Passes
Members of the media, independent producers, and hobbyists should Contact Us prior to attending a FoCo Roller Derby event. FoCo Roller Derby games are private events and FoCo Roller Derby reserves the right to restrict and/or deny all forms of recording.