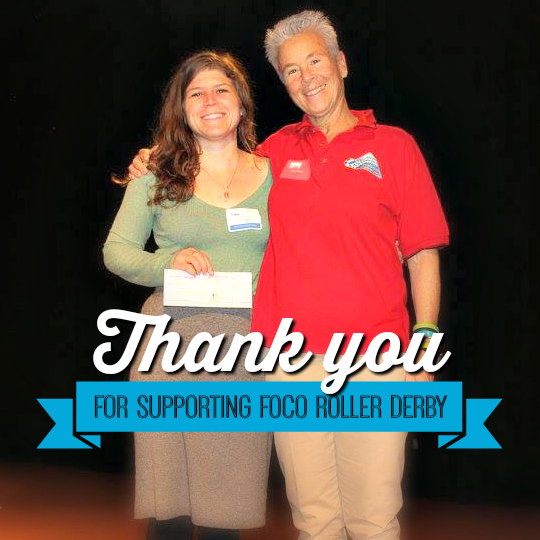 Colorado Women's Sports Fund Association Grant
Colorado Women's Sports Fund Association Grant
For the third year in a row, FoCo Roller Derby has received a grant from the Colorado Women's Sports Fund Association due to the hard work of our volunteers. The grant was awarded to our organization to help with facility rental fees and to hire professional trainers for the development of skating & athletic skills.
About the Colorado Women's Sports Fund Association
The Colorado Women's Sports Fund Association (CWSFA) provides grants to non-profit organizations in Northern Colorado that promote the participation of females in sporting activities. Over the past 9 years, the CWSFA has awarded $20,000 in grants to local organizations.
CWSFA works with 501c3 organizations who provide sports programming to females, such as (but not limited to) clubs, associations and recreation departments, who encourage females of all ages to participate in sports. These programs could include purchase of equipment or payment of fees to participate in clinics, leagues, or other programs as identified by these agencies. The CWSFA will annually designate a certain portion of its revenues to fund these opportunities.
The Colorado Women's Sports Fund Association maintains the ability to designate a portion of revenues to fund programs in which lack of funding (i.e., for equipment, facilities, team fees, etc.) is a barrier to participation by girls and women.
Thank you!
We would like to thank this wonderful organization for their hard work and dedication to removing barriers and encouraging participation for women in sports. When doing your online shopping, please consider supporting their organization at AmazonSmile and Amazon will make a donation to CWSFA.