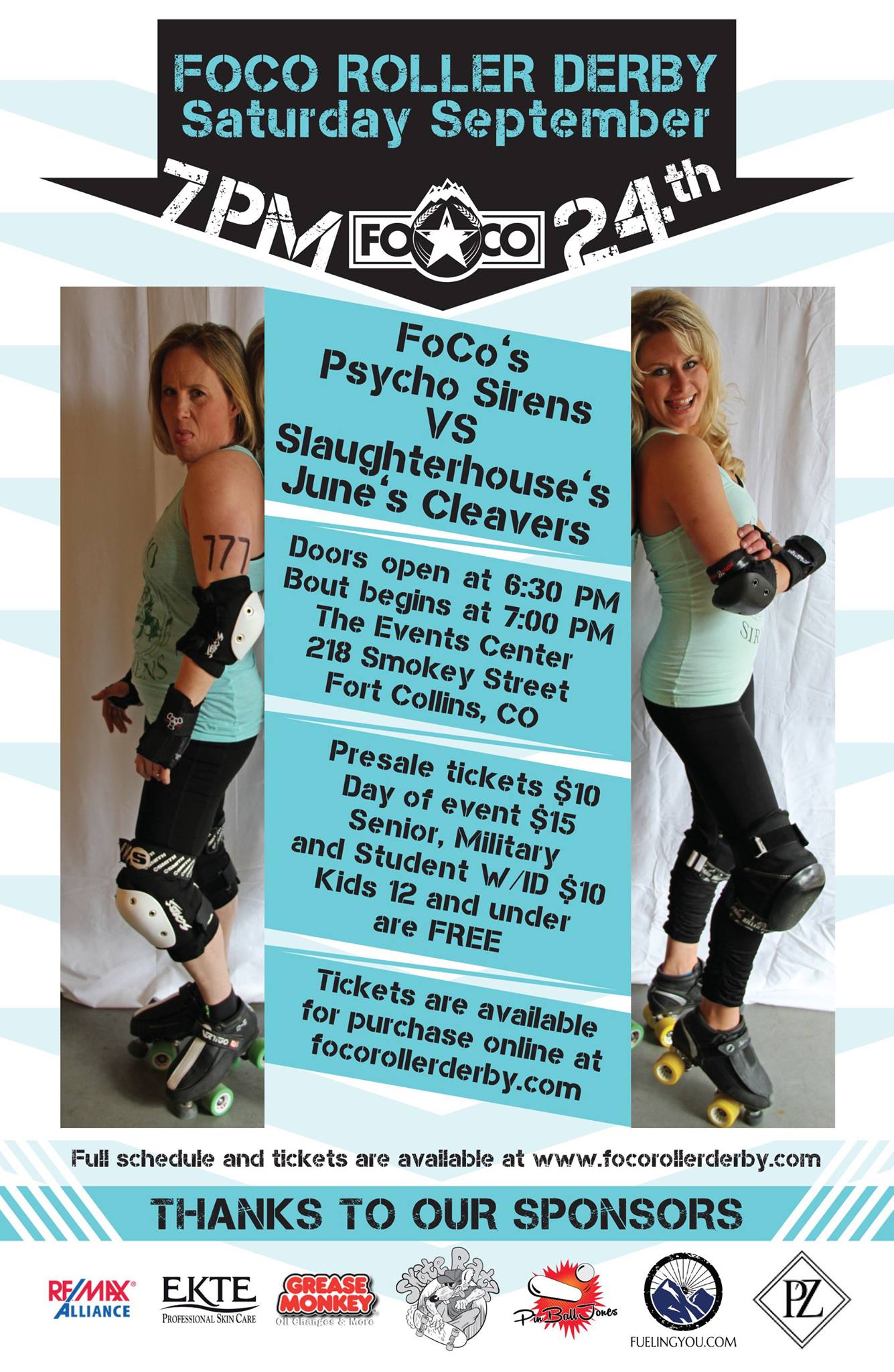 9-24: Hometown Throwdown
9-24: Hometown Throwdown
The challenge in Northern Colorado continues as the Slaughterhouse Derby Girls return to The Events Center for the 3rd game in a series of 4. Come cheer on your hometown superstars as we bring the battle to our own turf!
Doors are at 6:30 PM.
Online tickets for $10: http://bit.ly/Sep24FCRDvSDG
Online ticket sales end midnight the day of the event.
Tickets will be available at the door for $15 general admission, $10 for students with a valid ID and military personnel, and kids under 12 are free.
We will be collecting donations for our nonprofit partner Animal House Rescue & Grooming at this game. Please bring your donations to help benefit the lives of some furry critters!
Here's their full wishlist: http://bit.ly/ahwishlist
Canine Contentment & Care
– Cotton balls
– Distilled water for veterinary autoclave machine
– Waterless dog shampoo
– Natural Balance dog food rolls (all flavors, any roll size)
– Canned dog food (ground, please not stews)
– Nylabones (all sizes)
– Large rawhide sticks (no knots, please)
– Kong's, all sizes and types
– Martingale style collars (all sizes)
– Thunder shirts (all sizes)
– Baby or children's socks to put on paws to help keep patients warm during surgery
– Training clickers and training treat pouches
– Soft dog treats
– Pro-biotics
– Bed sheets (flat preferred over fitted, no holes)
– Blankets (all sizes, no fringe, holes, tears or dangling parts or fabric)
– Puzzle toys
– Peanut butter (smooth or creamy only)
– D.A.P. (dog appeasing pheromone) collars (all sizes)
– Canine Greenies Pill Pockets
– Safe Paw Non-Toxic Ice Melt Pet Safe
– Nature's Miracle stain remover
Cleaning Supplies
– HE Laundry detergent, bleach, paper towels, toilet paper, and trash bags (all sizes)
– Large size bath towels (no fringe, holes or tears)
– Freshmatic spray dispenser refills
Office Necessities
– Copy paper, Postage stamps, Manila file folders, Colored file folders with pockets
Gift Cards
– Office Max, Office Depot, Home Depot, Target and Wal-Mart
Photos by Silver Paw Studio